About the brand
HEROYNE stands for sustainable design jewelry with a unique modern edge.
The brand is based on the vision that a unique modern design and an ethical, sustainable manufacturing do not have to be a compromise.
All heroyne pieces are thoughtfully and high-quality handmade by expert goldsmiths. They are always ethically-responsible and sustainably crafted.

We exclusively use certified recycled gold and silver, and conflict-free precious gemstones and diamonds. We ensure human rights throughout the whole supply chain as we only work with certified and mostly family-owned manufacturers.

The pieces are exclusive and unique, as they are designed in-house in our Berlin studio.
 "Our name heroyne is derived from the female word for hero – heroine."
"The aim since the beginning has been
to create jewelry that is everlasting
- both in style and sustainable quality."
Theresia Sonja Schick,
Founder and Designer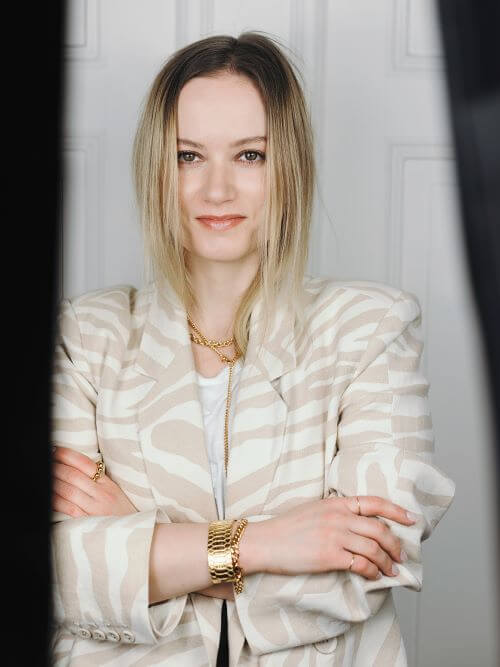 Our design process
The brands´ vision is to design and create true classics and unique statement pieces.
Therefore, all pieces start with a drawing in our studio in Berlin Mitte and are always a heroyne brainchild.

We design bold statement pieces yet very timeless, dedicated to people who curate and love the extraordinary and don´t shy away from standing-out.
We always have strong, empowered people on our minds.
THE INSPIRATION
"We design modern essentials and exceptional pieces,
to bring together elegance and
uniqueness through sculptural forms.
heroyne offers jewelry for people who love and
curate exceptional sustainable objects."
YOUR NEW EVERYDAY LUXURY.
The unique quality of expert goldsmiths
EXPERT GOLDSMITH MANUFACTURERS
Our partnerships are hand-selected. We work with traditional, mostly family-owned and always certified* goldsmith manufacturers that are expert in their individual field since decades.
To meet our high-quality standards, our jewelry is thoughtfully and carefully made by hand
We combine modern manufacturing methods, like 3D printing, with traditional goldsmith craftsmanship, like high-quality casting, enamel-painting and stone setting by hand.

EXTRAORDINARY HIGH-QUALITY STANDARDS
We use solid gold and solid 925 sterling silver to ensure a lifetime love story.

Our gold-plated pieces always come with an extraordinary high plating to ensure a true made-to-last quality.
We only use natural-sourced gemstones like diamonds, sapphires, tourmalines or topaz.
They are always traced back and conflice-free.


Sustainability and ethical responsibilty are an essential part of heroyne
WHY SUSTAINABLE JEWELRY MANUFACTURING MATTERS
We don´t compromise on human rights and the environment. The usual process of gold
mining is closely related to inhumane working conditions, prostitution or child labor, and environmental damage due to the use of cyanide, which is highly toxic and spills into the groundwater.

Particularly, jewelry that is produced for mass markets lacks basic ethical rights for human beings and the environment and is very often prone to greenwashing.

WHAT WE DO TO STAY TRUE TO OUR VALUES
Certified recycled and fair-mined precious metals
We exclusively use conflict-free and ethically sourced recycled gold and silver for our jewelry.

Sustainable sourcing of gemstones
We only use conflict-free and traceable diamonds and gemstones for our pieces.

Human rights and love for people
We make sure that our partners live for the same values as we do. We believe in
the equality of human beings,
therefore we work with people of all sexes, orientations, and through our
partners we employ people with disabilities to empower their livings.
We made sure that the partner´s employees are taken care of.
HARPER´s BAZAAR ABOUT HEROYNE
"Designer Theresia Schick creates a vision
of elegant statement pieces
that surpass time and are dedicated to women of all ages.
The pieces inspire with unique shapes and forms
and are still surprisingly classic and timeless
for an everyday luxury moment."