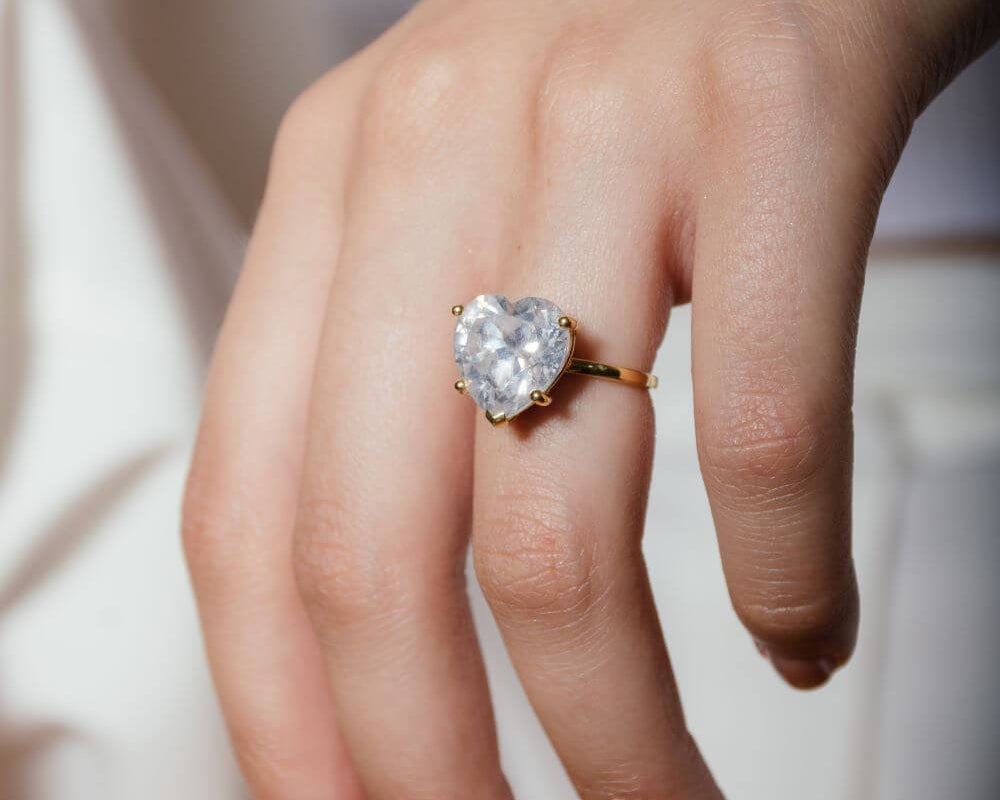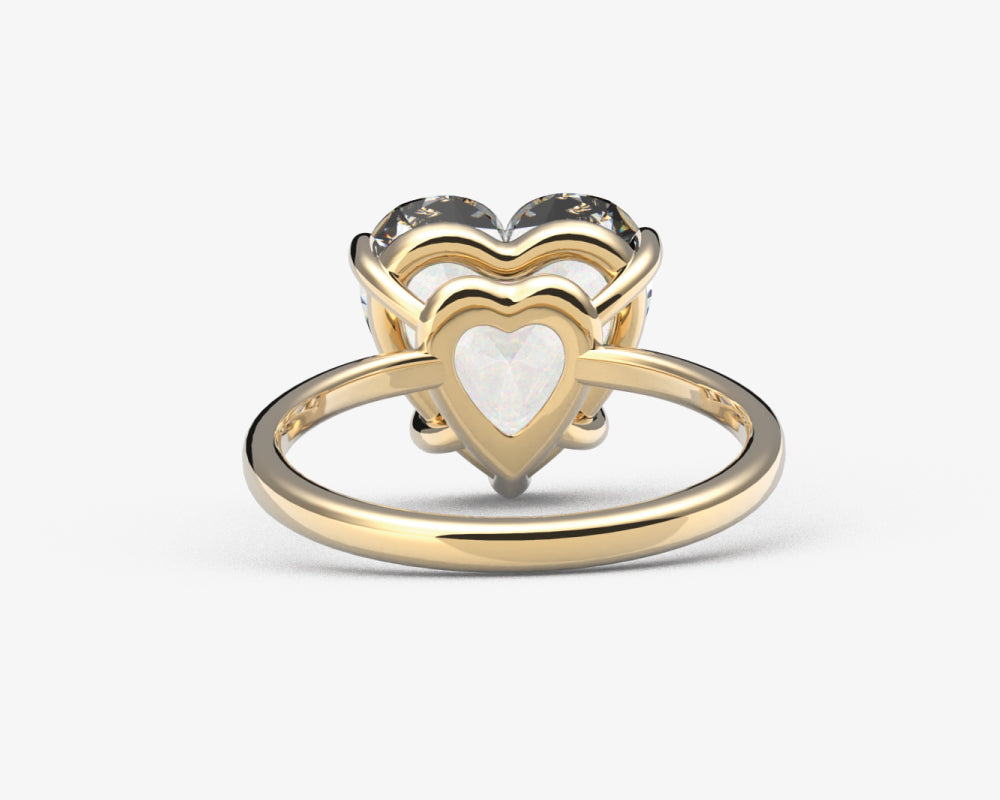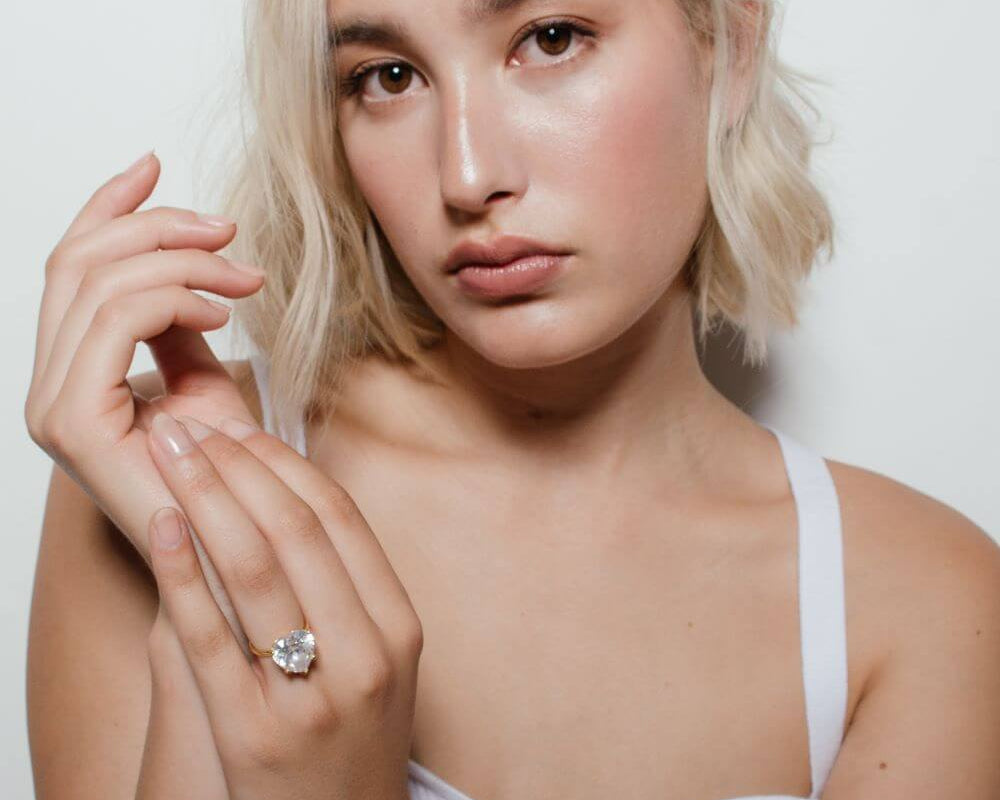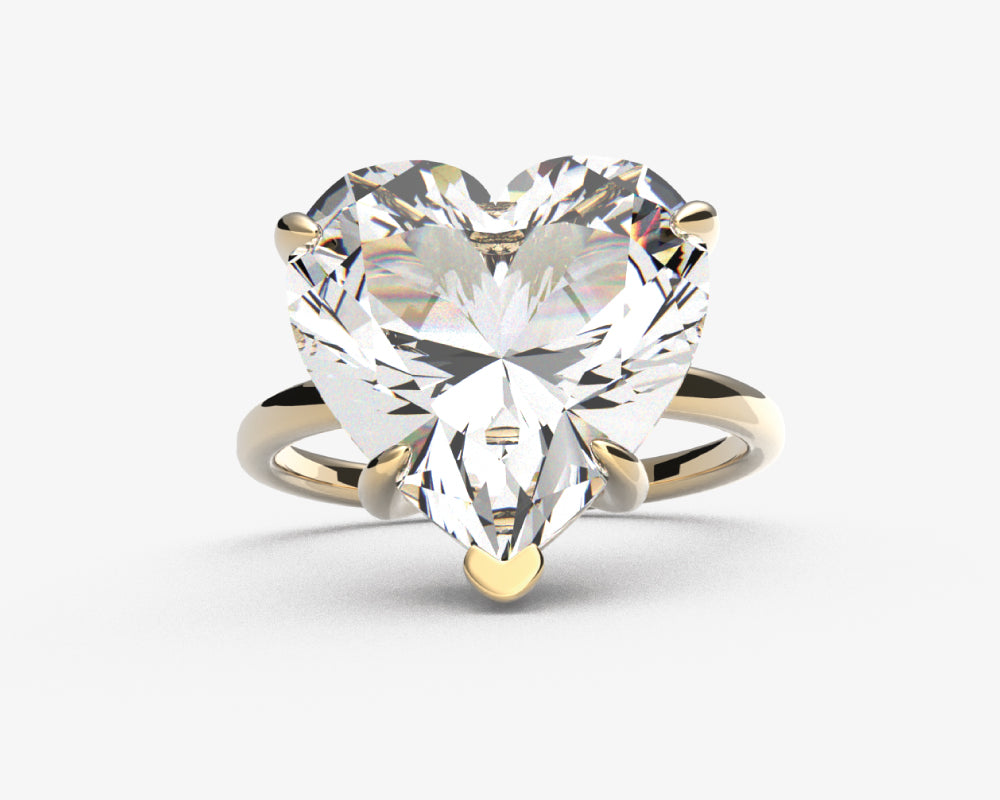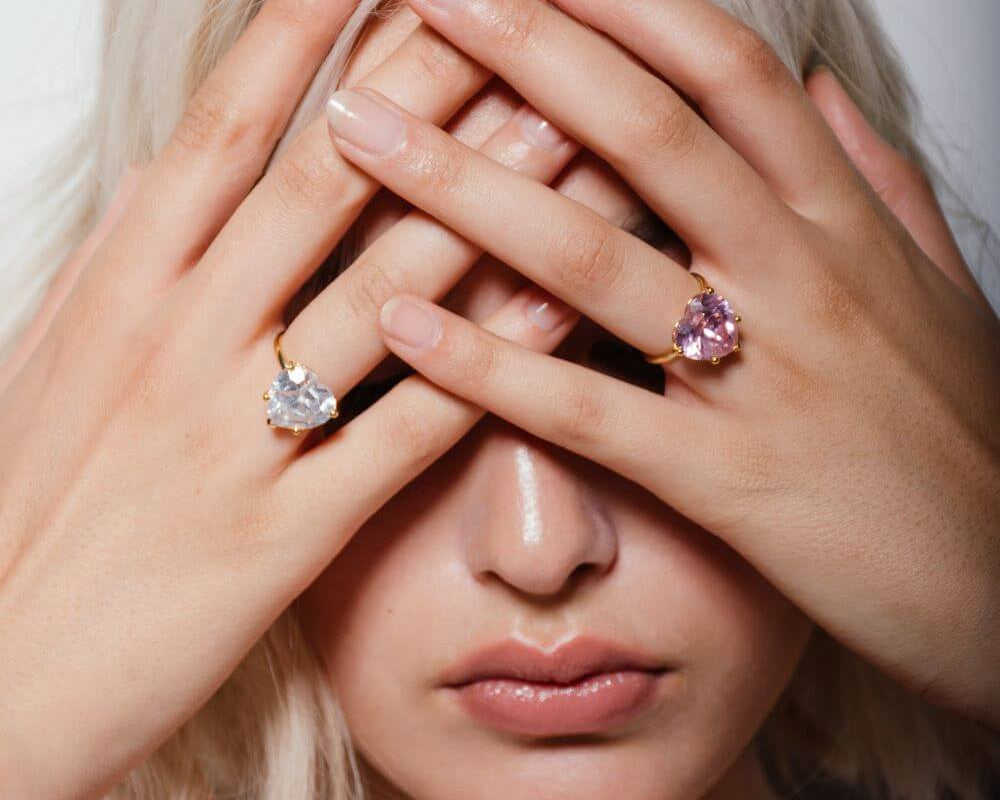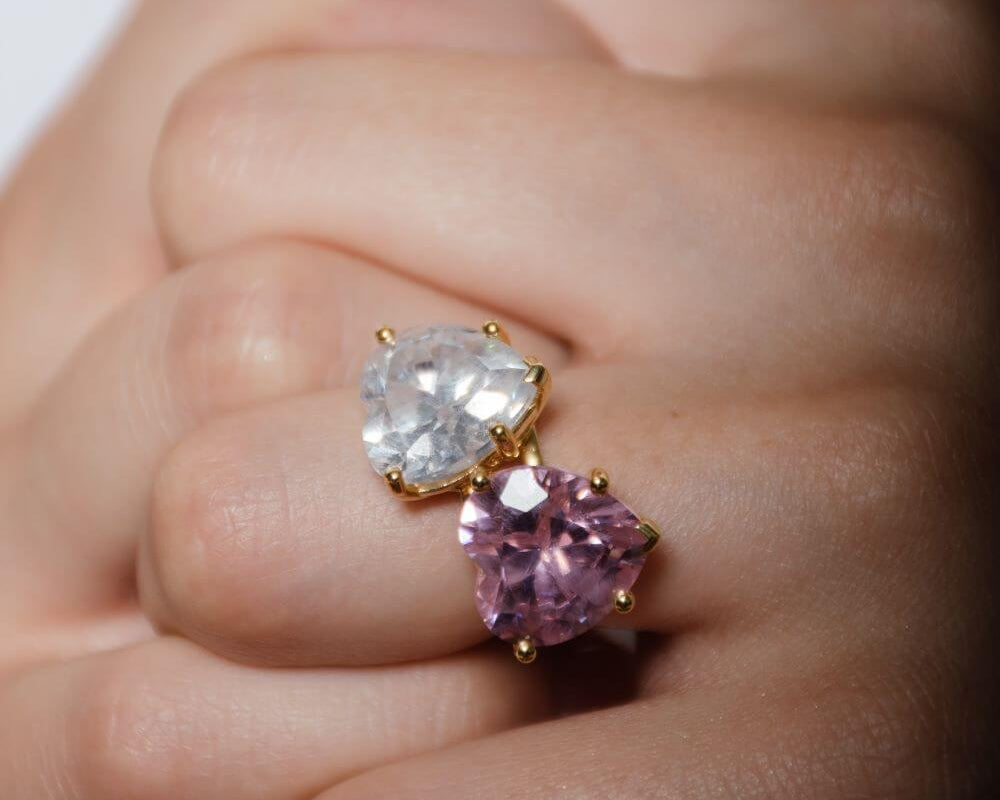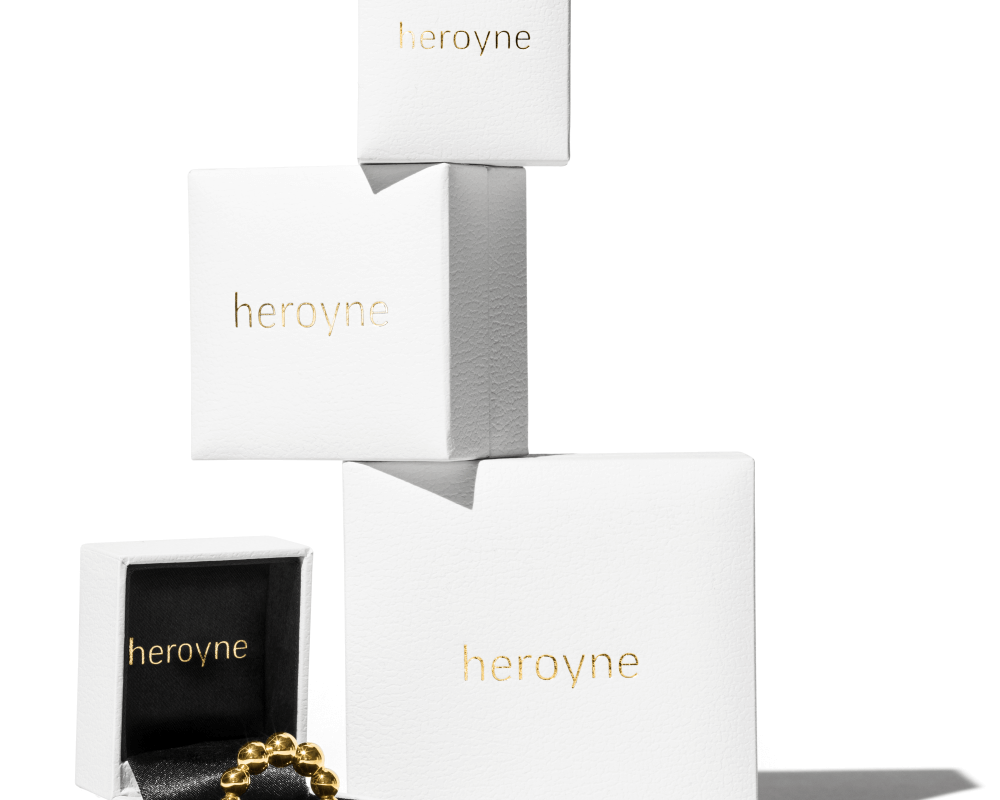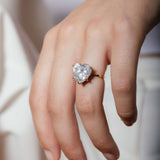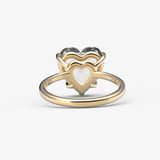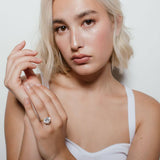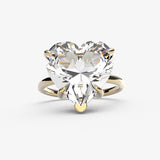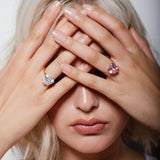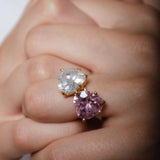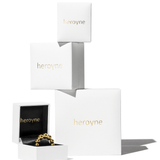 THE DESIGN

For the lovers of bold love. This exceptional statement piece is not only a true eyecatcher, but a design piece that creates pure love and a bold statement. Its credo: love yourself and gift love.

Its center piece is a conflict-free and handselected natural Topaz gemstone. It was designed with an eye for detail as you will find the heart shape also reflected inside the ring band.
Designed for lovers that curate and hold special pieces dear.


YOUR EVERYDAY LUXURY:

• 14 karat Gold Vermeil
• Natural gemstone: white Topaz
• High-quality handmade by expert goldsmiths
• Designed in Berlin
• High-polished finish
• Ethically and sustainably responsible manufactured

All heroyne jewelry is delivered in a premium vegan leather gift box.
MATERIAL + FIT

The Heart Ring fits true to size.
14 karat Gold Vermeil: a thick layer of 14 karat Gold on a 925 Sterling Silver base (recycled and certified)
Gemstone: natural white Topaz
Gemstone size: 13 mm
Gemstone cut: heart

ABOUT REAL GEMSTONES:

WHITE TOPAZ: Known as the stone of awareness. It empowers you with clear thoughts and gives direction and guidance. White Topaz is also known as a healing stone.

Please note that we work with natural gemstones, they are unique and colors will vary slightly.
QUALITY + CRAFTSMANSHIP

heroyne jewelry is thoughtfully and high-quality handmade by expert goldsmiths, who usually work with major luxury houses, and are considered to be the best in their individual fields since decades.

ABOUT THE GOLD VERMEIL QUALITY:
Vermeil is a technique where solid 925er Sterling Silver is plated with a very thick layer of real Gold.

Ultimately, the thickness of the gold layer represents the quality of plated jewelry. To be considered Gold Vermeil, the gold layer must be at least 2,5 microns.
heroyne jewelry is always plated with an even higher layer to last even longer.

Vermeil is a high-quality metal and is not comparable with other gold-plated metals. It is a very long-lasting material which is made for every day.

heroyne jewelry is always nickel-free.

QUALITY HALLMARK:
You will find the 925 hallmark to verify the solid 925 Sterling Silver used for this quality heroyne jewelry piece.
SHIPPING + RETURNS

*Prices are incl. VAT, excl. shipping

Germany: secured shipping with DHL within 2-3 business days

Easy returns or exchanges within 14 days
---
"A brand to watch
with a unique vision of
a new ethical luxury."
VOGUE magazine
Absolut empfehlenswert
Ein echter Blickfang! Super Verarbeitung, tolles Design. Ich trage den Ring fast täglich und er sieht noch aus wie am ersten Tag.
Ein tolles Geschenk
Sehr gute Qualität und Verarbeitung, fairer Preis und schnelle Lieferung
Sehr besonders und edel
Er ist heute angekommen und er ist wundervoll. Der Ring an sich ist sehr fein, während der Topas groß und unfassbar schön ist. Er funkelt und das Licht bricht sich, wenn es auf den Topas trifft. Und das Beste.: Wenn man als Trägerin auf den Ring schaut, erscheint ein zweites Herz, fast wie ein Hologramm. Ich kann gar nicht aufhören ihn mir anzuschauen.
As seen in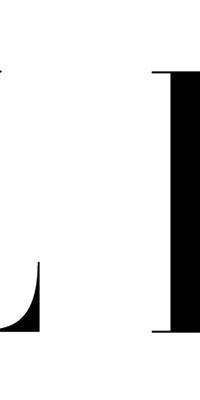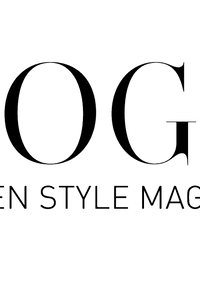 Sustainable luxury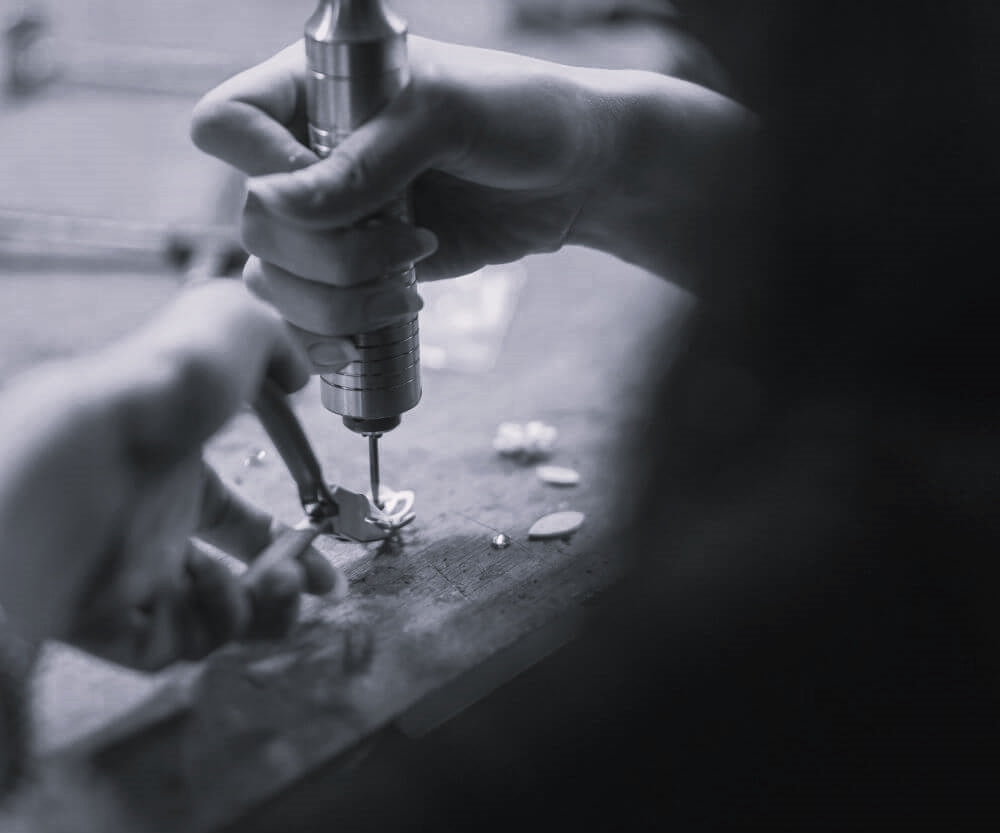 EXPERT CRAFTSMANSHIP
Our partnerships are hand-selected. We work with long-established, mostly family-owned and always certified goldsmith manufacturies, who also work with major luxury houses, and are considered to be the best in their individual fields since decades.

In order to meet our high-quality standards, our jewelery is carefully and individually made by hand.

We combine modern production methods, like 3D printing, with traditional goldsmith craftsmanship, such as high-quality casting, enamel-painting and stone-setting by hand.
HIGH-QUALITY STANDARDS
We use Solid Gold and Solid 925 Sterling Silver, for a lifelong love story.
Solid Gold and Solid Sterling Silver will not discolor, it is waterproof, so you can wear your jewelry every day, everywhere.
Our gold plated pieces are always plated with an extraordinary high gold layer, not comparable with other plated pieces, to make them truly last.
SUSTAINABILITY AND ETHICS
We do not compromise on human rights or the environment.
Our partner-manufacturies are certified to ensure all relevant ethical, human rights, social and environmental topics.
We source our precious metals conflict-free and ethically-responsible. Our Gold and Silver are recycled and certified.
We use high-quality, natural gemstones such as diamonds, sapphires, tourmalines and topaz. They are always traceable and conflict-free.