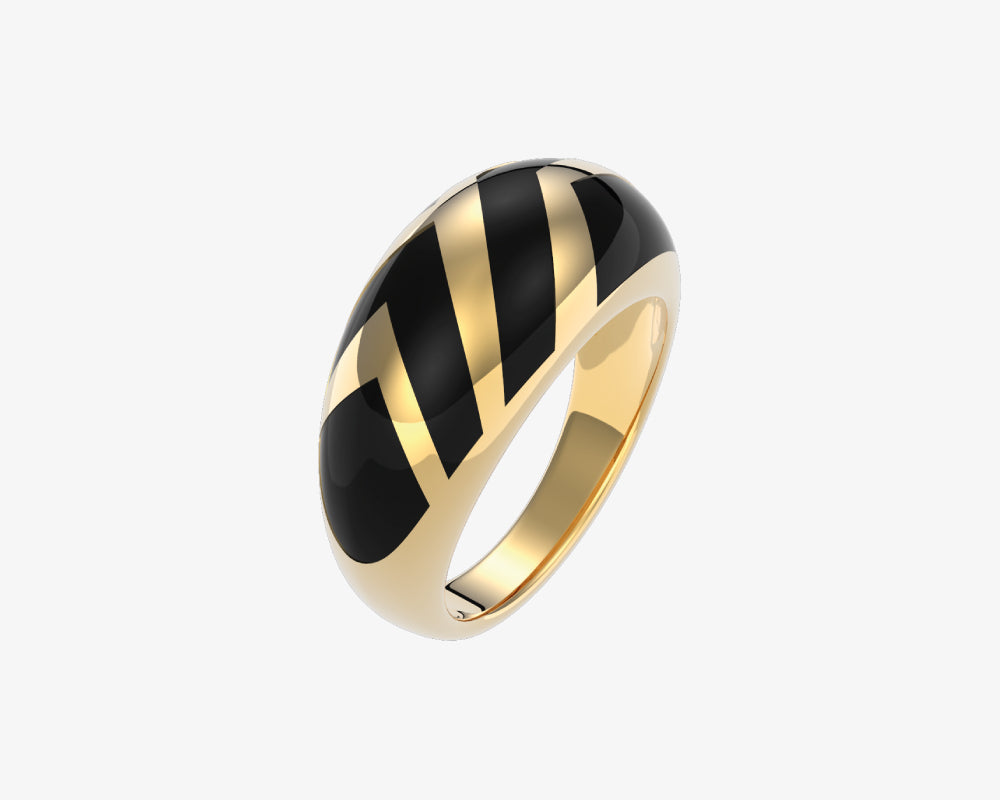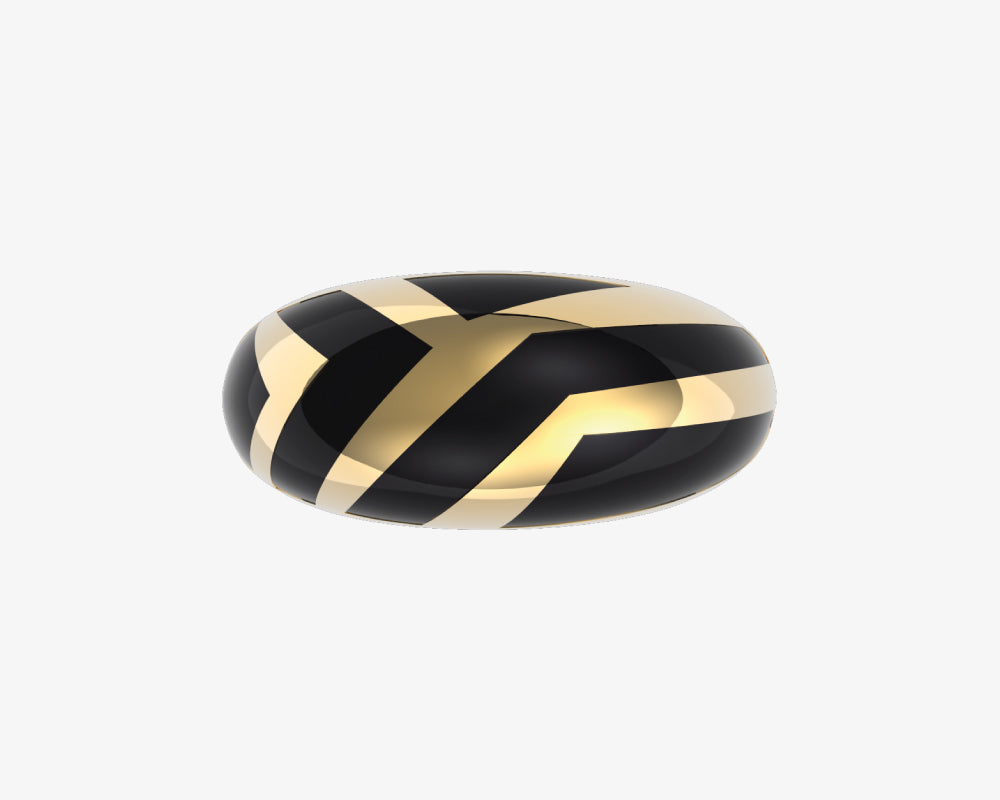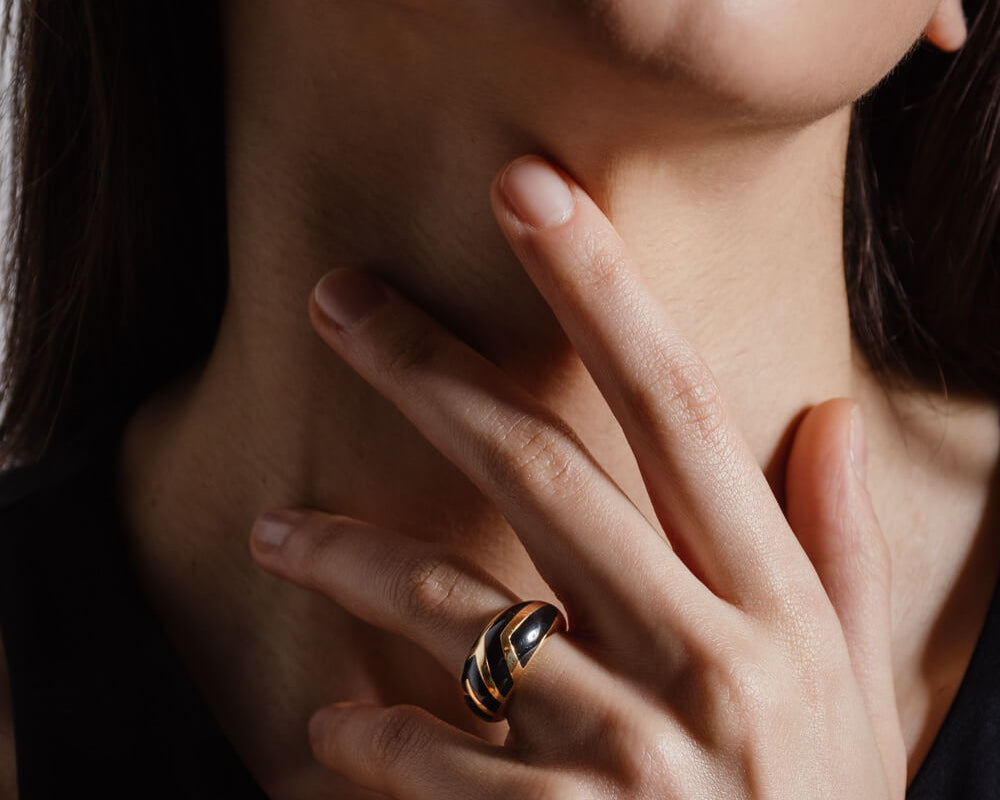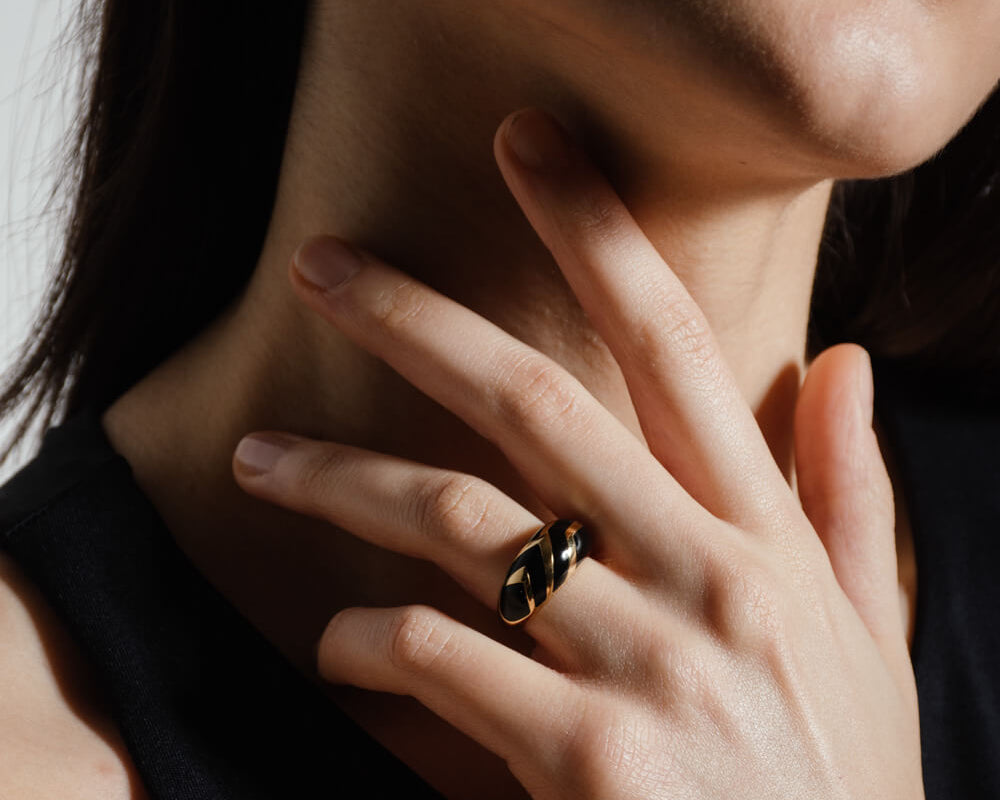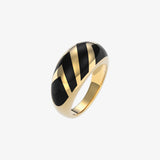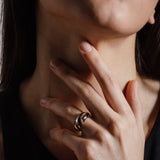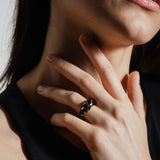 THE DESIGN

A new take on the timeless Dome Rings. The Kate Ring comes with delicately hand-painted enamel.
The Kate Ring reflects perfectly our brands vision of unique, edgy but timeless designs that stay with you forever.

Wear it alone as a statement or layer it with the Small Dome Ring for a unique stacking.


YOUR EVERYDAY LUXURY:

• 14 karat Gold Vermeil
• Delicately hand-painted Enamel
• High-quality handmade by expert goldsmiths
• Designed in Berlin
• High-polished finish
• Ethically and sustainably responsible manufactured

All heroyne jewelry is delivered in a premium vegan leather gift box.
MATERIAL + FIT

The Kate Dome Ring fits true to size.
14 karat Gold Vermeil: a thick layer of 14 karat Gold on a 925 Sterling Silver base (recycled and certified)
Handpainted enamel: black

ABOUT HANDPAINTED ENAMEL:

COLD ENAMEL: We use cold enamel (lacquer) for our enamel pieces, as it is very durable and creates a beautiful glossy finish of color. Each layer is delicately hand-painted from a skilled expert onto each piece, which takes time and dedication, especially when painted in a round form. When you touch the surface of the rings, you will feel the handwork. The art of enameling has ancient origins, with early color palettes designed to imitate the appearance of particular precious gemstones. Examples of early enamelwork can be traced back to the 13th century BC when Mycenaean artisans skillfully embedded enamel into gold rings.
QUALITY + CRAFTSMANSHIP

heroyne jewelry is thoughtfully and high-quality handmade by expert goldsmiths, who usually work with major luxury houses, and are considered to be the best in their individual fields since decades.

ABOUT THE GOLD VERMEIL QUALITY:
Vermeil is a technique where solid 925er Sterling Silver is plated with a very thick layer of real Gold.

Ultimately, the thickness of the gold layer represents the quality of plated jewelry. To be considered Gold Vermeil, the gold layer must be at least 2,5 microns.
heroyne jewelry is always plated with an even higher layer to last even longer.

Vermeil is a high-quality metal and is not comparable with other gold-plated metals. It is a very long-lasting material which is made for every day.

heroyne jewelry is always nickel-free.

QUALITY HALLMARK:
You will find the 925 hallmark to verify the solid 925 Sterling Silver used for this quality heroyne jewelry piece.
SHIPPING + RETURNS

*Prices are incl. VAT, excl. shipping

Germany: secured shipping with DHL within 2-3 business days

Easy returns or exchanges within 14 days
---
"A brand to watch
with a unique vision of
a new ethical luxury."
VOGUE magazine
Dome Ring
Absolut genau das, was ich haben wollte. Wunderschön!
Great for gifts
I bought this for my girlfriend and she was stunned. I will definitely buy more gifts here.
Genau was ich gesucht habe!
Ich liebe den Look der Dome Rings. Ich habe mit einen in Gold und Silber gekauft und kombiniere sie täglich. Als nächstes werde ich mir noch einen mit Emaille zulegen. Ich bin wirklich begeistert!
As seen in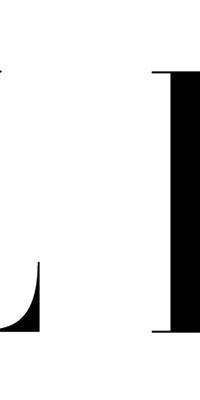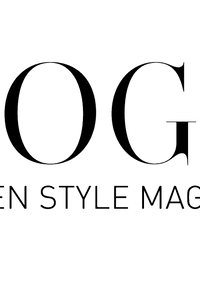 Sustainable luxury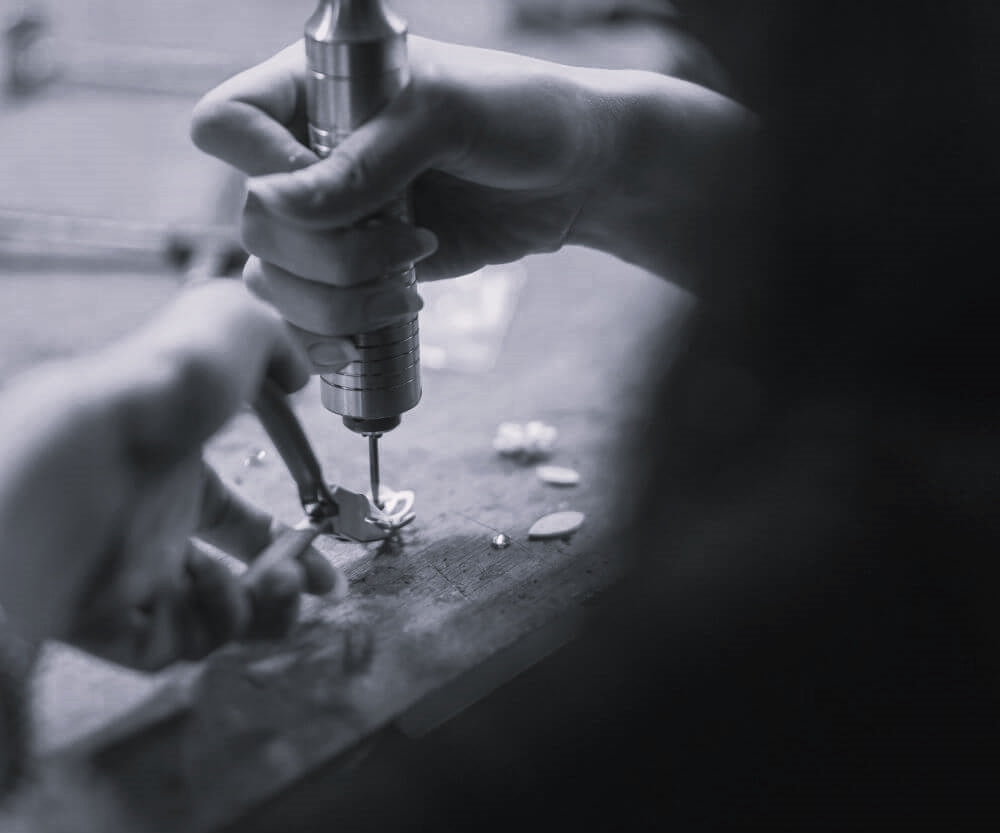 EXPERT CRAFTSMANSHIP
Our partnerships are hand-selected. We work with long-established, mostly family-owned and always certified goldsmith manufacturies, who also work with major luxury houses, and are considered to be the best in their individual fields since decades.

In order to meet our high-quality standards, our jewelery is carefully and individually made by hand.

We combine modern production methods, like 3D printing, with traditional goldsmith craftsmanship, such as high-quality casting, enamel-painting and stone-setting by hand.
HIGH-QUALITY STANDARDS
We use Solid Gold and Solid 925 Sterling Silver, for a lifelong love story.
Solid Gold and Solid Sterling Silver will not discolor, it is waterproof, so you can wear your jewelry every day, everywhere.
Our gold plated pieces are always plated with an extraordinary high gold layer, not comparable with other plated pieces, to make them truly last.
SUSTAINABILITY AND ETHICS
We do not compromise on human rights or the environment.
Our partner-manufacturies are certified to ensure all relevant ethical, human rights, social and environmental topics.
We source our precious metals conflict-free and ethically-responsible. Our Gold and Silver are recycled and certified.
We use high-quality, natural gemstones such as diamonds, sapphires, tourmalines and topaz. They are always traceable and conflict-free.